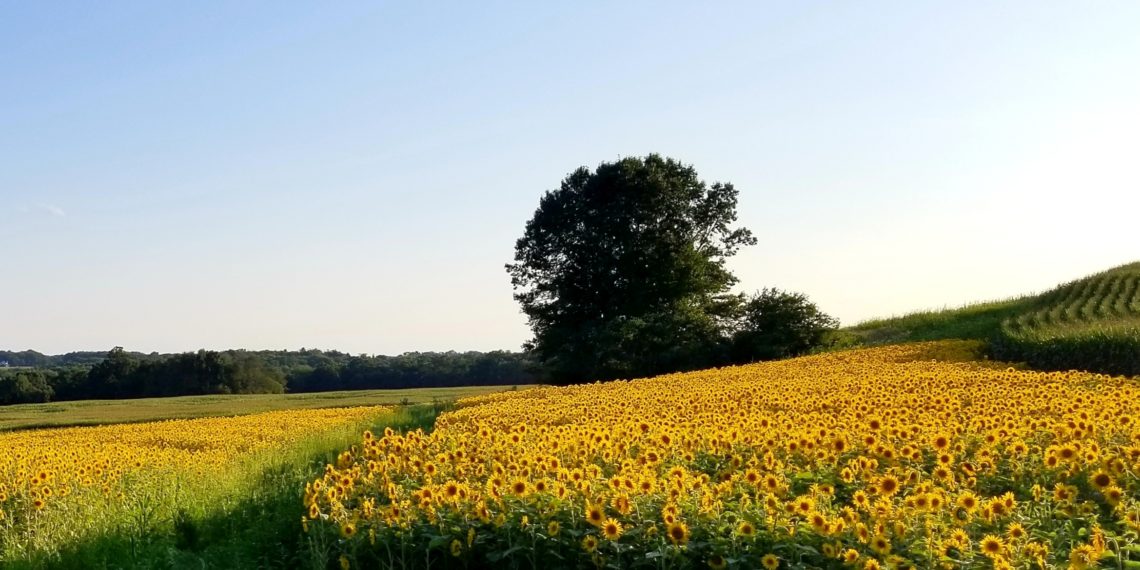 BEGINNINGS
Food plots have become a mainstay of modern hunting and game management.  Once utilized primarily by game management organizations and private hunting clubs, food plots have become so popular among landowners and proactive hunters that an entire industry has developed around them. 
My experience with food plots dates to my introduction to hunting in the early 1970s.  I grew up on a 75-acre farm in northern Pennsylvania where we hunted field edges and crops that were utilized by different game species.  It was apparent to me that certain agricultural crops attracted various game species at specific times of the year for distinctly different purposes.  For example, my brothers and I archery hunted in the edges of woodlots adjacent to hay fields that contained a mix of cool season grasses and abundant red clover.  Deer poured into these fields in late summer and during the fall season to get at that clover.  Later, we hunted standing corn during the deer rifle season when pressure pushed deer to bed in the field interiors where hunters rarely went.
After high school I graduated from Penn States' wildlife program at DuBois with a good understanding of the benefits of habitat manipulation and proactive game management.  I coupled this with the "informal" training that I received on my parents and neighboring farms regarding equipment use, crop production, crop rotations (and I don't mean the Mid-West version:  corn-soybeans, corn-soybeans), and how the practices employed on our farm related to wildlife production and ultimately, hunting success.  It was at this time I began applying that combination of formal and informal knowledge to the lower-quality areas of our farm with the goal of improving wildlife habitat.  
While I actively practiced habitat management on our farm in our woodlots and transitional "brush" habitats it was not until the 90s that I began planting crops specifically for wildlife use.  My first plots were limited to clovers for areas that were part of long-term rotations and fall/winter rye.  The clover fields were designed to attract deer primarily during archery season.  The rye would come into its own during rifle season in late November and December.
It was also at this time my approach to deer hunting began to shift from active hunting, where I had traditionally moved a lot (stalking and drives), to a more passive approach that leaned heavily toward stand hunting.  Coincidentally, I became a more selective hunter and less of a meat hunter by focusing on harvesting mature bucks.  So, it was within this context that my approach to hunting and farming began to more closely merge and the value of food plots became more prominent.
As my brother and I reconfigured our place into an organic hog farm, I added additional crops including sunflowers, buckwheat, clovers (alsike, ladino, red), millet, barley, rye, oats, spelts, and mixes of fall planted forages containing winter rye, brassicas, and winter peas.  My goal was to develop a land management approach following what I called an ecocentric farm design that sought to grow crops adapted to the existing soils, topography, and climate while furthering resource conservation, continually enhancing soil health, and moving away from maximizing crop yield. During this period, we used crop rotations and cultivation for weed management, experimented with polycultures, stopped planting crops that were not well adapted to our soil/climate conditions (e.g., alfalfa) or those that had elevated susceptibility to disease and pests. We used compost for nutrient inputs and ran our pigs across much of the farm where they would graze and clean up crop residues.
Ecocentric farm design as applied to that property also featured the maintenance and enhancement of existing habitat and the creation of dedicated non-production areas to support both game and non-game species.  The latter included permanent cover planted in warm season grasses and forbs (i.e., prairie species) and the construction of several wetlands located in poorly drained areas with hydric soils.  Wetland hydrology was maintained by a 50,000-foot tile drainage system that also created improved conditions in our primary ag production fields.    
Over a decade of farming organically and creating a property that served multiple goals I learned many valuable lessons.  Those lessons changed my view of farming, habitat and wildlife management, hunting, and how I now utilize food plots on my current farm and on client properties.
INITIAL CONSIDERTIONS:  ARE FOOD PLOTS FOR YOU?
Food plots are not as simple as many folks want you to believe.  It's not as easy as scratching up a piece of dirt on the back 40, throwing down some seed, and getting great results.  I see numerous ads in magazines and on hunting programs showing how to create beautiful food plots that will produce massive deer.  Most of them promote proprietary seed mixes that are superior to anything else available and always have a set of simple, foolproof directions: buy Giant Buck Blaster Super Seed Mix, plant in the spring, shoot in the fall – it's that easy. 
Don't believe it.  Food plots need to be planned.  This includes considering location (i.e., landscape position), topography, soil type, land use history, adjacent habitat characteristics, and what you want to achieve with them.  If you want to be successful at food plots it takes planning and there is a learning curve involved.  You need to be invested and prepared to fail and learn from those failures as well as what you do right.
The hunters I know that are dedicated enough to want to create food plots either on their property or someone else's property are generally well informed, constantly learn, and plan their food plots.  Many hunters initially think about where food plots should go, how large they should be, their shape, how best to hunt them, what to plant, and what it will cost.  These are all important, relevant considerations but before you ever get to that point there are several fundamental issues that need to be examined. 
So, you say you have a piece of land that can support food plots. Before you decide to move ahead you need to look at several crucial issues that many hunters overlook.  While plot placement is often driven by ecological considerations – soil type, drainage characteristics, nearby habitat – back up a step and look at the BIG picture. 
Before you decide on a plot location consider where that site is in relation to the property boundaries of your parcel and any local infrastructure that can offer external access to your land.  Municipal roads, public or private trails, and easy access across public land borders can transform what was your dream hunting spot into a nightmare of intruders that you never saw coming.  Take the time to secure property maps, find your boundaries, and mark them.  Be familiar with those boundaries and if necessary, have your property surveyed.    
When it comes to private property boundaries don't assume your neighbors are your friends.  Sure, you get along with them, but they may hunt too and when push comes to shove, they will take advantage of your food plots however they can.  And if they don't hunt?  Be prepared for them to allow outside people to hunt on their property and don't be surprised if those hunters become problem trespassers.
When considering boundary configuration large properties are generally more flexible relative to food plot location(s) as they often have more interior space options than small acreage.  Depending on the ecological makeup of a property and the purpose of the food plot I try to locate the best plots in the interior of the property as much as possible.  This makes it more difficult for neighbors to see your plots and for intruders to get to your plots and their associated stand locations without being observed.
Food plots can be any size but where you put them is extremely important.  If your property is small you really need to think about how it is situated relative to neighboring properties.  I have always had some level of difficulty with trespassers regardless of the size of the property I've owned.  While you may be an ethical hunter there are plenty that are not.  Other hunters will try to profit from your efforts.  If not directly, then indirectly.  I have had hunters put up blinds and stands on public land facing into my property 20 feet from a clearly marked property line.  They know it's illegal; they do it anyhow.
Likewise, be prepared for hunters to utilize areas on adjacent properties to intercept game traveling to your food plots.  They may be set back from your property line a reasonable distance, say 150 yards, on land that they have permission to hunt or on public ground.  Don't be naïve – these guys know exactly what they're doing.  If they know where deer are bedding and the trails they take to your plots you've not done your homework and you're creating opportunities for others.
My experience is to avoid locations near road frontage and areas close to property lines where people can see that you have food plots and/or observe animals utilizing them prior to and during hunting seasons.  Roads or trails (public or private) provide easy access and encourage trespassers.  Especially avoid locating plots near areas open to public hunting.  If you don't, you're inviting poachers and intruders – even if you post your land.   
As an example, I build wetlands that are designed to attract waterfowl well beyond 10 gauge shotgun range from adjacent property lines because I've witnessed hunters shooting from public land onto private holdings.  The same goes for food plots – try to put them in places where they cannot be seen from roads or trails, preferably beyond spotlight and rifle range. 
If you must place plots near boundaries or other high-risk areas be prepared to actively monitor those locations.  Your presence is the most effective deterrent to prevent trespassing.  Visit your property often.  If you can't be there use game or security cameras set to record short videos.  A video provides terrific proof of recurrent trespassers that can be presented to the guilty party (they will deny they were on your property until they see the evidence) or law enforcement.  Another excellent approach to monitoring is having cameras that immediately transmit photos directly to your cell phone.  If you live nearby then you can respond in a timely manner.
Always block access routes (logging or lease roads) with locked gates or cables.  If you are going to go to the trouble of putting up gates put locks on them.  I find ATVs/UTVs to be the most common disruptive forms of property intrusion around food plots.  If you can't secure trails with gates fell trees across them at your property boundary to discourage entry onto your ground.  Additionally, be prepared to plant vegetation screens along roads or trails or in strategic locations to limit or prevent what others can see.   Remember, you aren't doing all that work and spending all that money to benefit others!
So, after reading this and assuming you have the natural resource base necessary for food plots does it make sense to create them on your property?  Will you be the beneficiary, or will you be delivering opportunities for your neighbors and outsiders?  Deer and other game species don't recognize property boundaries.  If you have little control over who utilizes your property or are an absentee landowner that is rarely there you may not want to have food plots.
Alternatively, if you are confident that you can locate food plots in areas where YOU will benefit then by all means start the planning process.  Do your homework, determine what you have to work with, develop some basic ideas but start out small because it's easy to get over your head in the beginning.  A one-acre food plot may sound like a small project – until you start working it by hand.